About Daddy Squeeze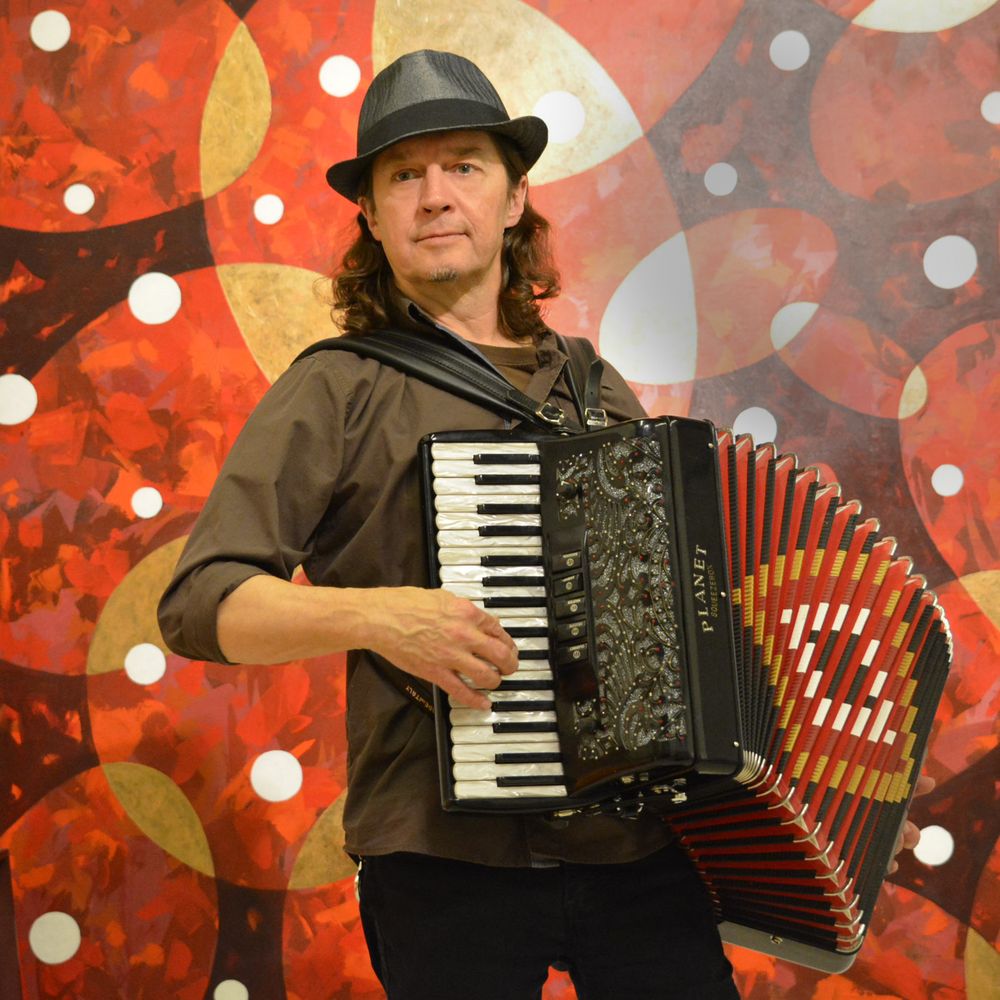 Dan "Daddy Squeeze" Newton has been playing offbeat accordion music since 1987, when he won the Nebraska State Accordion Contest at the Czech Festival in Wilber, Nebraska. He has used the squeeze box for playing all kinds of music not normally associated with free-reed instruments, as well as standard accordion material.
Dan enjoys mixing up styles and genres that don't generally seem compatible. "Music out of context" is the result of his genre-bending experiments with Celtic, French, Tex-Mex, Creole, Blues, Jazz, Scandinavian, Polka and pop music. His fresh approach to the much-maligned squeeze-box and his mind-boggling repertoire of both original and traditional material will change the mind of the most hardened accordion skeptic, and delight the fan of the instrument. He draws influences for songs and tunes from such sources as French Musette, Gypsy Swing, Cajun, Jug band, Tex-Mex and Cumbia.  Daddy Squeeze happily crosses musical borders with ease, often mixing styles with results like the "Yohnny B Goode Polka" (a hilarious look at what Chuck Berry's music might sound like had he grown up in Minnesota)or a French language waltz version of the rock and roll chestnut "Wild Thing". Dan's original songs about thrift store shopping, coffee, hi-top sneakers, heartbreak, and joy are delivered with a voice that is captivating, expressive and encourages harmonizing. He mines gems from the repertoires of icons such as Hank Williams, Hank Mancinni, Bob Wills, the Beatles, Clifton Chenier, Fats Domino, Fats Waller, Gus Cannon, Bo Carter, Jo Privat, and a few nuggets written by his friends and fellow musicians of today.
Dan entertains and enlightens his audiences with stories and colorful anecdotes about the accordion's history and his experiences making a living by playing and singing with the instrument he loves. Accordion lovers walk away from Dan's shows knowing they've heard their favorite instrument presented in a fresh and new way, while the squeezebox skeptic will realize that there is much to love about the accordion when it's in the right hands.